UN warns that Gaza desperately needs more aid − an emergency relief expert explains why it is especially tough working in Gaza
United Nations agencies on Oct. 24, 2023, pleaded for more aid to be allowed into Gaza, saying that more than 20 times the amount of food, water and medical supplies and other items that are currently reaching people is needed.
Egypt first opened its borders for aid deliveries into Gaza on Oct. 21, and since then, 54 trucks with medical supplies had entered Gaza as of Oct. 23, according to the U.N.
But the U.N. and other international aid groups are warning that the 2.3 million people living in Gaza remain in dire need of more clean water, food, fuel and medical care. The U.N.'s relief agency in Gaza, UNRWA, is also saying that without more fuel, it will have to stop its work on everything from providing medical care to setting up shelters for displaced people on Oct. 25.
Safely delivering aid in Gaza has unique complications – including the fact that the U.S. and the European Union classify Hamas as a terrorist group.
The Conversation spoke with Paul Spiegel, an expert on complex humanitarian emergencies at the Center for Humanitarian Health at Johns Hopkins Bloomberg School of Public Health, to better understand the particular challenges this reality creates and how it affects delivering aid to civilians in Gaza.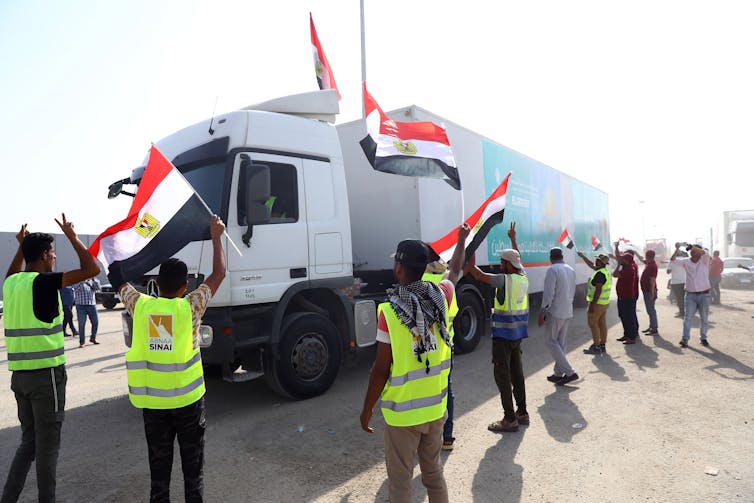 What are the challenges with providing aid in conflict zones like Gaza?
Providing humanitarian assistance in any sudden emergency, like the one currently happening in Gaza, is complex – in terms of security, logistics and financing.
Often, there are simply not enough appropriate supplies available to quickly get into an acute emergency, which might be in a remote area or might be in a restricted area, as is the case with Gaza. There are often security issues that may affect an aid group's access to a population. And there is the risk that aid workers will be attacked, as has happened increasingly over the last several years.
Typically, a U.N. agency like the World Health Organization would try to get assurances from all groups that are part of a conflict, so that those providing assistance will not be targets of violence. These assurances do not always happen, and then the agencies need to decide if they deliver the aid or wait until they get a guarantee they won't be attacked.
There are also concerns about aid, which is intended only for civilians, being diverted for military purposes. This can vary from combatants secretly taking small amounts of supplies for their troops or stealing large truckloads of goods.
How do politics affect humanitarian work, which is supposed to be neutral?
Humanitarians try to follow basic principles of humanity, independence, neutrality and impartiality. We are not addressing the underlying causal issues related to a crisis. But the politics surrounding an emergency are still often a major, complicating factor in our work.
For example, at the Egyptian Rafah crossing into Gaza, various issues needed to be resolved, such as searching aid convoys for weapons, which items Hamas or other groups could divert from civilians and the assurance that refugees would not cross into Egypt. These and other aspects continue to delay much-needed aid for civilians in Gaza.
In this conflict, I have also seen aid workers express concern that the limited amount of aid currently allowed into Gaza would stay in the south, and consequently be a pull factor for people being displaced from their homes. Or, there is a concern that the aid may not get to where it is most needed, such as all hospitals throughout Gaza.
In other crises, like those in the Democratic Republic of Congo or in Syria, we have heard concerns from all sides of a conflict about how aid may be unevenly or inequitably distributed, depending on where people live or what particular ethnic or religious group they belong to. This can cause tensions and even fighting among different communities.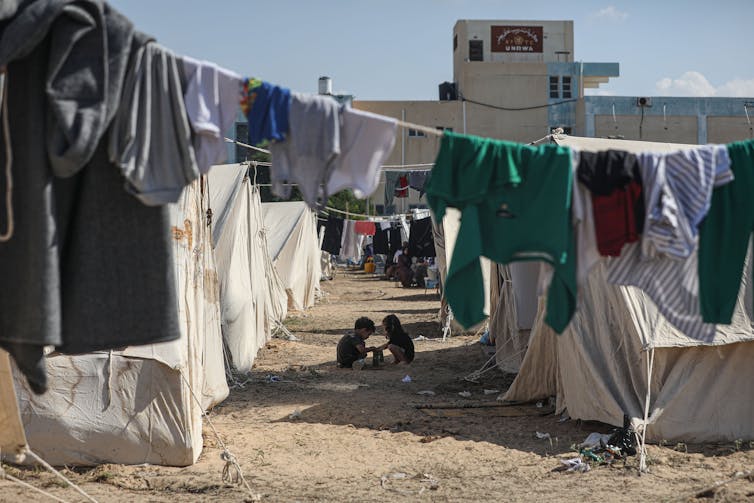 How does Hamas factor into this planning?
The U.S. and the European Union have very strict rules that will block the financial assets of organizations that give money or support to Hamas, or any other organization they classify as a terrorist group.
These sanctions also prohibit any direct contact between aid groups and a listed terrorist organization like Hamas.
Can you give an example of what this looks like in practice?
I arrived in Afghanistan immediately after the Taliban took over in 2021 with the World Health Organization. When that happened, the nongovernmental organizations and U.N. agencies – which receive the largest amount of money from the U.S. than from any other country – were not allowed to officially work with the Taliban and their ministries, or to give any money to them.
Previously, most of the global funding for health, for instance, was given to the Afghan Ministry of Public Health, which then had systems in place to disburse the money and monitor how it was spent. These new restrictions made it harder for aid to be delivered. We needed to find new ways of doing work, in order to bypass the Taliban and the Ministry of Public Health, which the former now controlled. This disruption created challenges in terms of both distributing aid quickly and in terms of sustainability, as many of the employees at the ministry left.
What are the long-term effects of navigating around governments that are classified by some countries as terrorist groups?
When international assistance is not allowed to go through local governments because of sanctions, the U.N. and international nongovernmental organizations develop and run parallel services, like schools or hospitals.
While this may work in the short term and save lives, these parallel systems have longer-term, negative effects. Government officials may leave their jobs for higher-paying jobs in the U.N. and with NGOs, for example.
We have seen the negative, long-term effects of this firsthand in numerous countries, like Afghanistan, South Sudan and other places where the U.S. and other governments are concerned about terrorism, and consequently have imposed sanctions.
At this point in time, I think that lifesaving aid desperately needs to be provided to civilians in Gaza. Despite the various challenges I have mentioned in this discussion, I believe that humanity must prevail, over all other aspects. It truly is a matter of life and death.

Paul Spiegel does not work for, consult, own shares in or receive funding from any company or organization that would benefit from this article, and has disclosed no relevant affiliations beyond their academic appointment.