Biden-Xi meeting: 6 essential reads on what to look out for as US, Chinese leaders hold face-to-face talks
U.S. President Joe Biden sits down with his Chinese counterpart Xi Jinping on Nov. 15, 2023, in the first head-to-head talks between the leaders of the world's two biggest economies in over a year.
During that time, relations between the two countries have not been their best – a spat over a purported spy balloon over American airspace in February only added to a list of grievances that includes Biden's comments over Taiwan, Beijing's support of Russia, confrontations in the South China Sea and more generally a competition for influence and trade around the world.
Yet, going into the meeting – which takes place on the sidelines of the Asia-Pacific Economic Cooperation summit in the San Francisco Bay Area – there has been talk of trying to put the U.S.-China relationship on a better track. The White House has indicated that strengthening communication and managing competition will be the key thing to watch; Xi recently commented that there were "a thousand reasons to improve China-U.S. relations, but not one reason to ruin them."
But how much is achievable? Recent articles from The Conversation's archive provide insight and background over what is likely to be on the agenda – and the obstacles to improving ties.
1. Engagement, decoupling or derisking?
The meeting comes after a hardening stance against China in Washington – and with a general election just a year away, political rhetoric on China is likely to remain robust.
Michael Beckley, an expert on U.S.-China relations at Tufts University, saw evidence of a more hawkish China policy on display in March when a bipartisan House committee on China held its inaugural meeting.
"What was abundantly clear from the lawmakers was the message that the era of engagement with China is long past its sell-by date," wrote Beckley, adding: "Engagement had been the policy of successive government from Nixon's landmark visit to China in 1972 onward. But there was a general acceptance among committee members that the policy is outdated and that it is time to adopt if not outright containment then certainly a more competitive policy."
A key part of that new policy would involve a more robust stance on confronting China's military posturing in East Asia.
It also included what Beckley described as "selective decoupling," or the disentangling of certain technology and economic interests. The buzzword being thrown around in foreign policy circles lately is "derisking," but it alludes to the same thing: U.S. entities limiting their exposure to China.
---


Read more:
A more hawkish China policy? 5 takeaways from House committee's inaugural hearing on confronting Beijing


---
2. War (of words) over Taiwan
So what has prompted the worsening relations between China and the U.S.? For starters, there is the ongoing tension over Taiwan.
For the best part of 40 years, U.S. diplomatic relations with the island have been governed by the "one China policy" – through which Washington recognizes the People's Republic of China and acknowledges that Beijing's position remains that Taiwan is part of China. Prior to 1979, the U.S. recognized the government of Taiwan as "China."
But in recent years, Beijing has caught wind of subtle changes in the U.S. over the issue. In May 2022, Biden suggested he would intervene "militarily" should China ever invade Taiwan. This would break a long-standing policy of ambiguity over what the U.S. would do in such an event. The White House later walked back the comments, suggesting that it didn't represent a change. But it wasn't the first time that Biden has made such a remark, noted Meredith Oyen, an expert on U.S. Taiwan relations at the University of Maryland, Baltimore County.
"I think it is clear at this point that Biden's interpretation of the Taiwan Relations Act – which since 1979 has set out the parameters of U.S. policy on the island – is that it allows for a U.S. military response should China invade. And despite White House claims to the contrary, I believe that does represent a departure from the long-standing policy of 'strategic ambiguity' on Taiwan," she wrote.
---


Read more:
Biden on Taiwan: Did he really commit US forces to stopping any invasion by China? An expert explains why, on balance, probably not


---
3. Navigating the South China Sea
Most experts are of a mind that an invasion of Taiwan isn't on Beijing's immediate agenda – or in its interests. But that doesn't mean that a military confrontation isn't possible.
"If a war between China and the U.S. is going to happen, I believe the South China Sea is likely to be a major theater, with Chinese aggression toward Taiwan the spark," wrote Krista Wiegand, a scholar of East Asian security and maritime disputes at the University of Tennessee.
The South China Sea – which is home to large reserves of oil and gas as well as billions of dollars' worth of fisheries – has become a constant cause of tension between Beijing and a host of East and Southeast Asian nations, including U.S. allies the Philippines and Japan.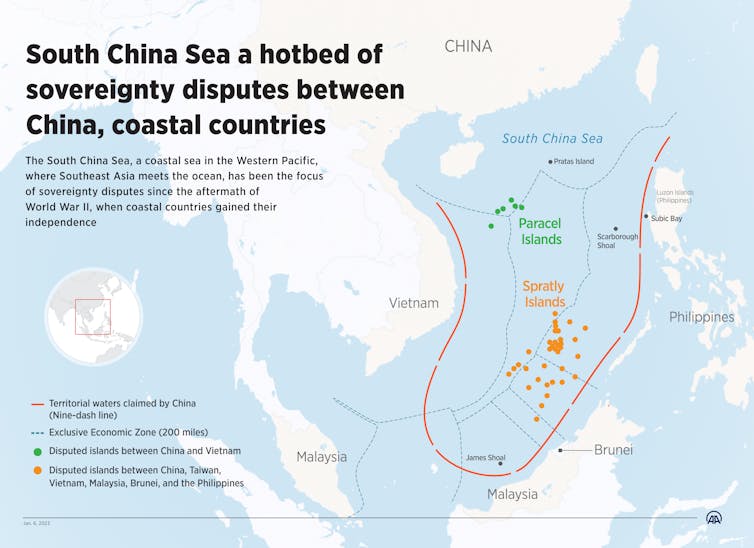 In April, the U.S. Navy in conjunction with counterparts in the Philippines sunk a mock warship off the archipelago country's coast.
Washington stressed that it was not in response to increased tension over Taiwan, but it was nonetheless met by Beijing staging its own military exercise around the disputed island.
More generally, China has consistently engaged in so-called "gray zone tactics" in the waters – such as deploying Chinese Coast Guard boats in disputed areas, harassing other nations' ships and building up artificial islands.
"With China playing by a different set of rules than the U.S. and its allies in the region, the risk of clashes at sea is very real. It could even lead to conflict between the two most powerful countries in the world today," wrote Wiegand.
---


Read more:
The US is about to blow up a fake warship in the South China Sea – but naval rivalry with Beijing is very real and growing


---
4. Trading blows
The South China Seas is also a major trade route – and simmering trade competition underpins a lot of the tension between the U.S and China.
City, University of London's ManMohan S. Sodhi and Christopher S. Tang at the University of California, Los Angeles, explained how economic ties between the two countries flourished in the 1980s only to become more hostile of late – and how that is affecting global trade.
"As U.S.-China relations have moved from building bridges in 1972 to building walls in 2022, countries will increasingly be forced to choose sides and companies will have to plan supply chains accordingly. Those seeking to trade in both blocs will need to 'divisionalise,' running parallel operations," the scholars wrote.
A bipolar trading world is already emerging, with U.S. Treasury Secretary Janet Yellen calling for "friend-shoring" with trusted partners – in other words, splitting countries into friends or foes and rewarding the former. Such a tactic is aimed at countering China's Belt and Road Initiative, which has seen Beijing pump billions of dollars into developing countries over the last decade.
---


Read more:
China-US tensions: how global trade began splitting into two blocs


---
5. War in Ukraine …
Biden and Xi have plenty of bilateral issues to talk though. But the meeting takes place with a backdrop of two major conflagrations that continue to occupy the thoughts of foreign policy advisors in both Beijing and Washington.
China's support of Russia has been a continued source of tension between Beijing and the West since the invasion of Ukraine in February 2022. Meanwhile the escalation of violence between Israel and Hamas puts in jeopardy China's policy of "balanced diplomacy" in the region.
And yet, there is potential for common ground here between Biden and Xi. Both will be keen that war doesn't cause more destabilization. As Ronald Suny of the University of Michigan wrote in regards to the Ukraine conflict: "Stability, both domestically and internationally, works to China's economic advantage as a major producer and exporter of industrial goods. And Beijing is mindful that a slump in foreign demand and investment is hitting the country's economic prospects."
---


Read more:
The view from Moscow and Beijing: What peace in Ukraine and a post-conflict world look like to Xi and Putin


---
6. … and now the Middle East
Yet Beijing is also at pains to promote its vision of a multipolar world, edging away from U.S. dominance. For similar reasons, Beijing is keen to develop its role as friend to all in the Middle East – a position that will become harder to maintain as war goes on, as Andrew Latham, who teaches China foreign policy at Macalester College, explained.
---


Read more:
Israel-Hamas war puts China's strategy of 'balanced diplomacy' in the Middle East at risk


---