Prime Minister Rishi Sunak plans to introduce a bill aimed at granting new oil and gas drilling licences in the North Sea. The proposal was outlined in the 2023 king's speech to parliament, where he set out the government's priorities ahead of the next general election.
This development comes less than two months after Sunak made a series of controversial announcements setting out the government's revised strategy for achieving net zero emissions – a move that many argue has diluted its commitment to the UK's climate objectives.
Sunak has justified his watered-down climate policy by saying it will protect British jobs in the oil and gas industry and make the UK more energy independent. However, the reaction from experts, the public and businesses suggests that this is a retrograde step.
The Climate Change Committee – the government's independent advisors – had previously stated that the government was not doing enough to tackle climate change and would fall short of its climate targets. The government's recent announcements will only further constrain UK prospects for achieving those climate goals.
Recent polling also suggests that swing voters now view the Conservatives less favourably because of their focus on oil and gas. But what about the wider working public? Our own research, published in August 2023, suggests that many workers in the UK see the government's backtrack on climate policy as a huge disappointment too.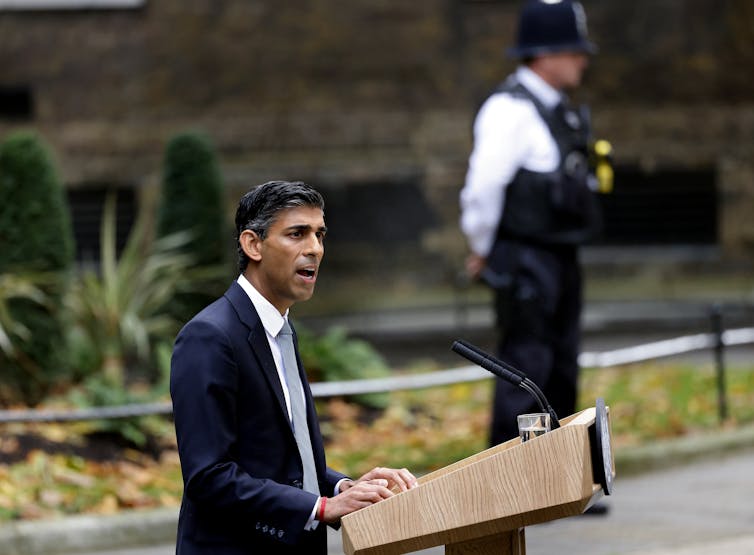 Taking leadership
We surveyed 2,001 UK workers across all sectors and age groups to gauge their "readiness" for working in a decarbonised economy and to understand their expectations regarding a fair and just transition.
Our findings are unambiguous: nearly eight out of ten UK workers expressed that they were either very or fairly concerned about climate change. Every second UK worker believes that the UK is already witnessing the effects of climate change and urgently requires climate action.
At the time of the survey, carried out in April 2022, workers maintained a sense of hope that the climate crisis could be addressed. But they emphasised the need for action.
Most workers expect the government to show leadership and act, with 63% identifying the government as having the greatest responsibility for addressing climate change. Slightly less than half (46%) of workers ranked businesses highly too.
Many workers are active on environmental and climate issues. For example, 59% stated that they are trying to reduce their carbon footprint at home. However, very few believe that the primary responsibility for climate action lies with individuals.
The workers we surveyed urged the government to finance the projects that are necessary to decarbonise the economy, as this chart shows: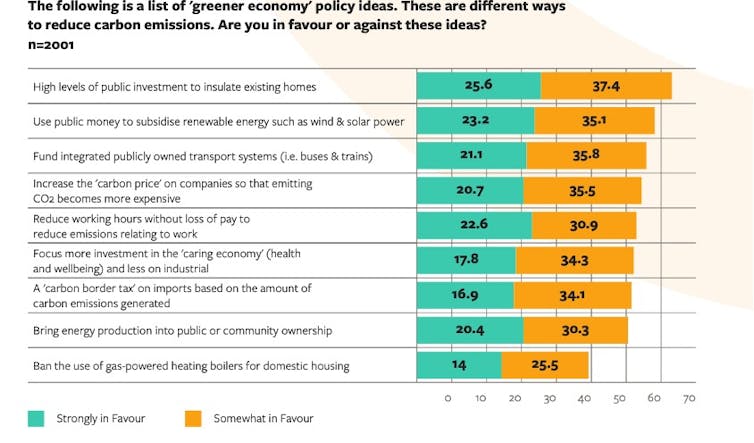 Workers have high expectations for the positive changes that will result from investments in the green economy. Seven in ten workers expect cleaner air and enhanced soil and water quality. Six in ten workers feel that increased health and wellbeing would accompany this transition.
They did, however, also express concerns over potential increases in the cost of living, the possibility for heightened inequalities, or a reduction in living standards.
Finding green jobs
More than one-third (42%) of the workers we surveyed said they were interested in working in the green economy. Most of these workers said they would consider switching to a green job because they find the prospect of working in the green economy both interesting and meaningful. A significant number (40%) are strongly motivated by the opportunity to contribute to reducing the harmful effects of climate change.
Workers exhibit the greatest interest in working in sectors such as environmental protection or restoration, renewable energy, recycling and the waste industry. Encouragingly, workers in higher carbon-emitting sectors display higher confidence that their skills are suited for employment in the green economy.
However, a range of obstacles are causing workers to hesitate over making the switch. The prospect of lower pay, the time needed to retrain, and the cost of retraining are all seen as significant barriers for workers considering a move into green jobs.
Research by the New Economics Foundation – a British thinktank that promotes social, economic and environmental justice – suggests the average worker is currently qualified at a level below that needed to access many green jobs. The foundation estimates that workers need between six and 18 months of additional training, on average, to access green jobs.
Our findings reveal that workers expect the government to show leadership and offer policies that will help them make the switch, with a particular emphasis on the creation of jobs in their current location or region: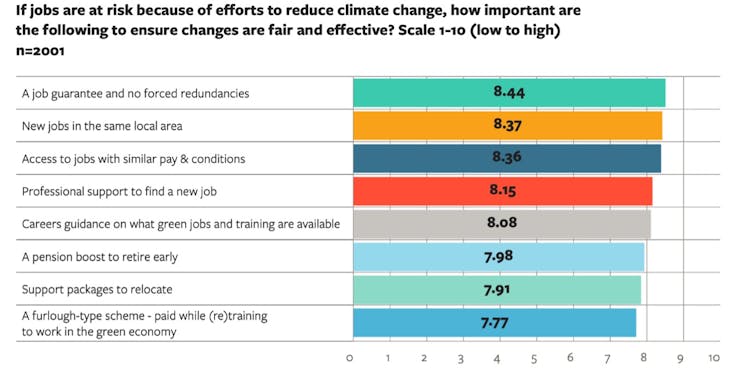 Many workers are willing to retrain and switch to doing a green job. Some say they already possess a good skills base for employment in the green economy, and are willing to spend more time on training.
Nonetheless, the prime minister's U-turn on climate policy indicates that workers' aspirations for a just transition to a greener economy are not being met. The government should not let down these workers but rather capitalise on the enthusiasm of a workforce eager to be part of delivering net zero. The UK needs a government that is responsive to workers.
Vera Trappmann receives funding from Research England and Hans-Böckler Foundation. The study upon which this article is based was done in collaboration with Dr. Felix Schulz and Dr. Ursula Balderson, both colleagues at the Centre for Employment Relations Innovation and Change (CERIC), Leeds University Business School.
Jo Cutter receives funding from Reseach England