Throughout the 1960s, the Rolling Stones and the Beatles were engaged in a friendly rivalry. Despite being amicable in person, they were in competition for record sales, cultural influence and aesthetic credibility.
Despite their enormous popularity, however, not even the most ardent fans of either band would have expected that such a competition would still be going on more than 50 years later. And yet, the Stones recently reached number one on the UK album charts with their album Hackney Diamonds, and the Beatles have done the same on the singles charts.
But how much of this recent success is down to the quality of the songs themselves, and how much is to do with nostalgia?
Both bands have remained commercially and culturally significant since the 1960s, and both have had recent commercial successes prior to their new releases. The Beatles' 50th anniversary re-release of Abbey Road topped the UK charts in 2019, and the Stones's No Filter Tour – which ran between 2017 and 2019 – was one of the highest grossing tours of all time.
Even more recently, Peter Jackson's Get Back documentary showed that the Beatles still have immense cultural capital, 51 years after splitting up. As for both bands' latest releases, however, their success may be more down to us attaching pre-existing positive memories to their music.
Reminiscence bump
Music psychologist Patrik Juslin has observed that episodic memories linked to music often arouse emotions, such as nostalgia. Listening to any new music from the Stones or the Beatles will naturally remind fans of our early experiences in listening to them. If those memories were good, we may experience a "reminiscence bump" – a psychological term to describe when music or other triggers take us back to exciting times in our lives, when we experienced things for the first time.
When The One Show broadcast an exclusive short film detailing the making of Now and Then the day before its official release, it left the BBC show's hosts visibly emotional. Later, music broadcaster Lauren Laverne, who introduced the film, admitted: "I cried like a baby! And I never cry."
The reason for such emotion? The song involved all four Beatles performing on the same track, something most fans never thought they'd experience again. Paul McCartney felt the same way, commenting: "It's quite emotional. And we all play on it, it's a genuine Beatles recording."
The opportunity to hear the Beatles together again, one last time, is an irresistible prospect regardless of whether the song is any good, worthy of the Beatles name, or can be considered an official Beatles release at all.
And when the music video (directed by Jackson) was released, with the aid of some – slightly heavy-handed – trickery, we were able to see the Fab Four united again. It was hard not to get swept up in the poignancy of it all.
Rolling nostalgia
As far back as 1989, the Rolling Stones were described in an LA Times headline as "Just Rolling on Nostalgia". Many of the previews of Hackney Diamonds spoke about how the album reflected "the band in its pomp" and how it included "classic Stones signposts".
Much was also made of the fact that the band's late drummer, Charlie Watts, played on two of the tracks, and that he was joined by their former bassist, Bill Wyman, on the song Live By The Sword. This reunited the version of The Rolling Stones from the mid-70s to the early 90s.
For this reason, the Evening Standard's Martin Robinson described the track as carrying "considerable emotional weight".
On his YouTube channel, Justin Hawkins, frontman of The Darkness, shared a clip of him listening to the new Stones song Angry. After hearing Mick Jagger's count-in, Hawkins pauses the track and says: "Brilliant! It's exactly what you want to hear." Later, he praises the Keith Richards solo as being "classically Keith".
---


Read more:
How music heals us, even when it's sad – by a neuroscientist leading a new study of musical therapy


---
And that's just it. They may not be doing anything different to what they did 50 years ago, but as long as the music evokes memories that speak to the heart, it's enough for most fans.
Whether this is the last new music we'll hear from these two titans of popular music remains to be seen. But the nostalgia towards them is only going to increase as time goes on, meaning that if they do release any more tracks, they are likely to be even more popular.
---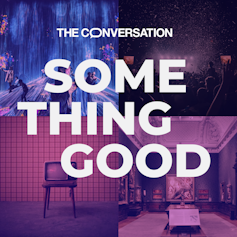 Looking for something good? Cut through the noise with a carefully curated selection of the latest releases, live events and exhibitions, straight to your inbox every fortnight, on Fridays. Sign up here.
---

Glenn Fosbraey does not work for, consult, own shares in or receive funding from any company or organisation that would benefit from this article, and has disclosed no relevant affiliations beyond their academic appointment.