A government scheme to help children catch up with schooling they missed during the pandemic is still struggling to help those most in need.
A recent independent evaluation of the National Tutoring Programme has assessed the impact of the catch-up strategy in 2021-22, its second year. It has found that while some improvements were made by some children and schools, the overall impact of the scheme has been small.
This follows a critical report delivered by the House of Commons education committee after the first year of the programme, which stated that it "appears to be failing the most disadvantaged".
Funding for the National Tutoring Programme is focused on schools with pupils qualifying for the pupil premium payment. These are children who have been eligible for free school meals and children who are or have been in care.
The programme offers three approaches to additional support for pupils. Schools with the most disadvantaged pupils are able to access academic mentors: full-time, in-house staff members employed to provide intensive support to pupils who need it.
A second route is the use of tuition partners, tutors recruited by external, Department for Education-approved tutoring organisations.
The third approach, introduced by the government for the second year of the programme, is school-led tutoring. Schools recruit and train staff of their choosing to give additional help for children.
Small improvements were found in mathematics for pupils and schools who had participated in school-led tutoring. This was the equivalent of about an additional month's worth of academic progress or less, the evaluation found.
There was some improvement in English in schools after school-led tutoring, though again for the equivalent of a month or less of additional progress.
Although the study authors state that these figures are likely to be underestimates of the impact of school-led tutoring, research suggests that small-group tutoring can be expected to lead to between two and four months of progress.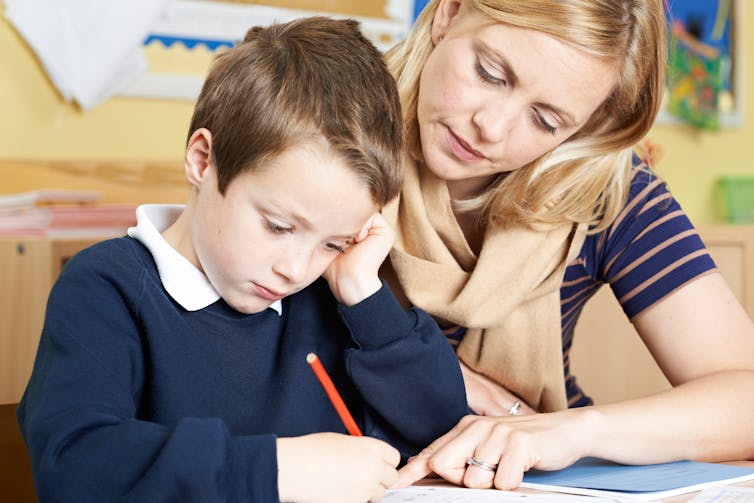 However, there was a different picture for pupils and schools taking part in the academic mentoring and tuition partners scheme. The evaluation found no evidence that these schemes led to any improvement in English or maths. There was some evidence that they were linked with poorer results.
There are some caveats to the results. For instance, the report's authors noted that the effect sizes of their results were small, meaning that they did not find strong indications of improvement or decline in attainment and so the results should be treated with caution.
Also, because the children who have been selected to take part in the programme are likely to face a range of challenges to doing well at school, some bias might remain in the results despite efforts to reduce it.
The right idea
The principle behind the programme of additional small-group tutoring as a catch-up strategy is sound. However, the duration of tutoring is a factor in how successful it is.
The report notes that the National Tutoring Programme recommended a course of tuition take place for 12 to 15 hours – but the tutoring time recommended by charity the Education Endowment Foundation is three times a week for up to an hour for ten weeks.
Positives note can be found in a recent survey of schools taking part in the National Tutoring Programme in its third year, 2022-23. This survey indicates that most schools are using the school-led tutoring route, which this analysis showed led to at least some improvement for pupils.
The survey also showed that over a third of schools were offering tutoring courses of longer than 15 hours.
There's no doubt that a focus on helping students from disadvantaged backgrounds is needed, not least because gaps in attainment persist and in some cases widen.
In summer 2023, government exam regulator Ofqual required exam boards to resume an approach to grading that reflected pre-pandemic standards. In the Department for Education's own analysis of the results from these exams, the attainment gap between well-off and disadvantaged students is the widest it has been for over a decade.
It seems that measures to improve attainment and close gaps are needed as much now as at any time before or after the pandemic.
The pandemic has had a significant impact on children and young people: not just educationally but also in terms of wellbeing and physical and mental health.
I have previously argued that a strategy which considers all of these elements would be of most benefit to pupils.
Educational recovery should play an important part in a holistic approach to helping disadvantaged pupils after the pandemic. But this tutoring programme should be expected to make a much greater impact.
Helena Gillespie receives funding from TASO and has previously received research funding from the European Union, HEFCE and Advance HE.