Wales has sought to rediscover its identity and autonomy since the devolution referendum of 1997. Authors and publishers have embraced the gothic genre as a means of exploring Welsh language, culture and heritage – reflecting on the anxieties Welsh society has experienced since becoming a devolved nation.
Halloween (or Nos Galan Gaeaf, as we say in Wales) presents the perfect opportunity for us to explore these social tensions through the macabre.
Here are five eerie works of Welsh literature for you to catch up with this spooky season.
Ghostbird by Carol Lovekin (2016)
In a little Welsh village filled with magic, Cadi Hopkins is on a mission to find herself and learn the truth about what happened to her father and sister. But it's not long before ghosts appear, and Cadi and her mother learn they have to confront their fears.
Inspired by Welsh mythology, Ghostbird by Carol Lovekin has the perfect balance of ghost story and magical realism. Lovekin explores themes of identity, mother-daughter relationships, female empowerment and Welsh culture. Think the fantasy film Practical Magic meets Wales.
Dead Relatives and Other Stories by Lucie McKnight Hardy (2021)
In the opening story of this collection of short stories, Iris, a young girl, resides in a big country house with her mother and their servants. But when the Ladies arrive, Iris' dead relatives begin to stir.
This latest work by Lucie McKnight Hardy deals with themes of motherhood, small town anxieties and weird traditions. It's the perfect option for those who may not have time to read a whole novel.
The Great God Pan by Arthur Machen (1894)
Hoping to unlock the secret of seeing the spiritual world, Clarke witnesses Dr Raymond's experiment on a young girl's mind, which leaves her insane. Years later, Clarke realises that similar strange events seem to be happening and a young woman, Helen Vaughan, appears to be at the centre of it.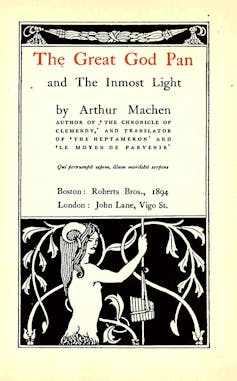 Originally published in 1894, Arthur Machen's novella may be one that you've previously read. Nevertheless, its connection with Wales has historically been overlooked, possibly due to the author's own internal conflict with his Welsh identity.
Edited and re-released in 2018, The Great God Pan explores themes of the occult, sexuality, insanity and experimentation. It's an ideal read for people who like traditional 19th-century horror.
The Library Suicides by Fflur Dafydd (2023)
Lost and grieving their mother's death, twins Ana and Nan plan their revenge against the man they believe is responsible: the literary critic Eben. Trapped within the National Library of Wales, Ana and Nan have Eben exactly where they want him, until the plan starts to go awry.
This novel is an English language re-visioning of Fflur Dafydd's 2009 Welsh language novel, Y Llyfrgell, which was also made into an award-winning film in 2016.
The Library Suicides is part psychological thriller and dystopian gothic fiction, which deals with themes of literature, complex identities and bereavement. And all this is set against the backdrop of the grand library in Aberystwyth.
Stranger Within The Gates: A Collection of Short Stories by Bertha Thomas (1912)
This collection opens with a young Englishwoman arriving in Wales. Soon, she meets her new landlady, Mrs Trinaman, who recalls the extraordinary tale of her former life as the local madwoman, Winifred Owen.
Stranger Within The Gates was re-published in 2008 as part of a classics series by Honno Welsh Women's Press that aims to rediscover lost Welsh women writers. Bertha Thomas' short stories examine social changes, women's rights, hybridity and the significance of "the other". This is a great read for those who love both satire and the gothic.
The collection also includes Thomas' pro-suffrage article from 1874, Latest Intelligence from the Planet Venus.
---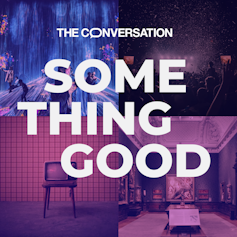 Looking for something good? Cut through the noise with a carefully curated selection of the latest releases, live events and exhibitions, straight to your inbox every fortnight, on Fridays. Sign up here.
---

Sophie Jessica Davies does not work for, consult, own shares in or receive funding from any company or organization that would benefit from this article, and has disclosed no relevant affiliations beyond their academic appointment.