If you're taking the first steps in your career right now, you're doing so in the face of a high cost of living and an increasingly inaccessible housing market. You may well be facing the reality that you will be worse off than your parents' generation.
The UK's youth (15-24) unemployment rate fell from almost 15% in September 2020 to 9% in August 2022, but is now rising again reaching 12.7% in July this year. This is higher than the average for developed economies and much higher than the likes of Germany and Japan.
There is also a serious gender disparity – one of the highest among developed countries. The unemployment rate among young males (14.6%) is significantly higher than females (9.8%).
This is even more pronounced in some regions. For example, in the West Midlands, young men are more than two and half times more likely to be unemployed than women. Young men, in particular, have a harder time finding work during tough economic times.
---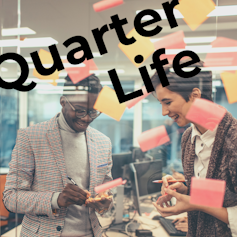 This article is part of Quarter Life, a series about issues affecting those of us in our twenties and thirties. From the challenges of beginning a career and taking care of our mental health, to the excitement of starting a family, adopting a pet or just making friends as an adult. The articles in this series explore the questions and bring answers as we navigate this turbulent period of life.
You may be interested in:
Make new friends and become a role model: why you should consider volunteering if you're in your 20s or 30s
'Girl math' may not be smart financial advice, but it could help women feel more empowered with money
Why young workers are leaving fossil fuel jobs – and what to do if you feel like 'climate quitting'
---
The number of young people not in education, employment or training is estimated to be 11.6%. The pandemic has led to fewer opportunities for young people to get into work, such as apprenticeships, and skills gaps are making it hard to break into a number of industries.
And new figures show that the number of young people unable to work due to long-term sickness has drastically increased since the pandemic.
The problems with youth unemployment
This is not just a concern for people currently trying to find work, but has repercussions for the economy overall. Higher rates of unemployment and inactivity among youth adversely affect long-term wages and productivity. It can also lead to wider socioeconomic consequences, including a high crime rate.
A recent study by PwC, an accounting firm, suggests that reducing the UK youth unemployment rate by just 5% (bringing it in line with the German level) would boost the economy by £38 billion. The government has committed to investing in youth services in an effort to boost employability, but clearly this doesn't go far enough.
The UK could look to other countries for inspiration on how to address this. Germany has a strong dual apprenticeship system and Australia's work for the dole programme have both helped youth employment in these countries.
A further problem is that so many young people who are employed are dependent on work in low-paid sectors like retail and hospitality. These sectors do not see higher increases in wages even if there are productivity increases, and do not have a great prospect of career progression.
The challenge of home ownership
There has been a substantial increase in house prices in the UK in recent decades, particularly in big cities where young people seek job opportunities. The average house price in London is estimated to be well over £500,000, more than three times the price in the north-east of England.
The rising house prices, stagnating wages and increase in mortgage rates have made it almost impossible for many young people to step on the property ladder. The average age of first-time buyers is around 33, a two-year increase compared with pre-pandemic estimates.
Decreasing home ownership has been a problem for young people in the US and Europe too. But home ownership among young people in the UK is lower than the OECD average. And with mortgage rates not expected to come down in the near future, the outlook remains bleak.
Steps you can take
Almost half of the population aged 16-24 are in financially precarious positions, and many are in debt. The numbers are stark: 50% of those aged 16-18, 75% of those aged 19-21 and 80% of those aged 22-24 are in debt. While a good chunk of this is for study-related loans, it also includes buy-now-pay-later schemes, personal loans and overdrafts.
This speaks to the challenges posed by the cost of living crisis, but also the lack of financial literacy, budgeting and planning habits among young people. According to a recent survey by Compare the Market, only 41% of young people are financially literate.
While it won't mitigate the wider economic problems, you can take small steps to improve your financial skills by tracking spending, prioritising debts and wisely using credit cards. It is important to be aware of misinformation, including cryptocurrency scams and get-rich-quick schemes.
The government could also play a role through compulsory financial education. As the Confederation of British Industry has also suggested, there is a need for a national strategy, working with industry and other private sector partners to improve financial literacy and awareness.

The authors do not work for, consult, own shares in or receive funding from any company or organisation that would benefit from this article, and have disclosed no relevant affiliations beyond their academic appointment.