Cratering consumer confidence and the collapse of major UK retailers like Wilko are causing concern about the future of the UK high street.
Both of the major UK political parties proposed solutions to this challenge at their recent annual conferences. The Conservatives announced a £1.1 billion package to help revitalise high streets and towns that have been "overlooked", while the Labour conference included a panel discussion on the future of high streets.
This focus should not come as a surprise. High streets have traditionally exemplified the historical, cultural and economic vibrancy of British communities. But today they're more likely characterised by modest footfall, derelict buildings and boarded-up windows.
Efforts to help high streets to thrive again should involve making them more individual and uniquely based on local quirks. This quirkiness could be used to attract visitors interested in seeing something new, rather than a repeat of the same shops and businesses on every high street up and down the country.
But all too often, when the problem of the UK's dying high streets is discussed, the crisis and contraction in retail is often seen as the fundamental challenge to address. While the prosperity and vitality of UK high streets has come to rely heavily upon shoppers, making space for organisations with a social purpose could create more sustainable change.
Helping the high street to thrive again
The "death of the high street" is usually blamed on the rise of internet shopping. But in reality it reflects more serious weaknesses in the shopping-centred model that has guided the development of these streets since the 1940s.
Over the last three decades, the growth of mass production and mass consumption has allowed global corporations to thrive on our high streets, selling products to a worldwide market and making distant places look and feel the same.
Instead, the identity of high streets should be in the hands of the local communities. They could initiate new uses for empty spaces to create a more authentic high street experience. To do this, locals need to ask fundamental questions about their high street: what is it actually for, what makes it successful and what sort of social and economic functions should it perform.
Developing high streets for the local community means ensuring accessibility regardless of income, age, ability or social background. Local authorities can also be empowered to purchase sites at below market value to address the problem of over-priced and under-used high street buildings.
These spaces could be used by the community to provide social benefits including residential housing, community-led initiatives, health-related activities like exercise classes and to house small local businesses – not just commercial retail. This would shift the power over how to save high streets to a model where the community decides what's best.
There have been a number of modest moves in this direction, including the opening up of vacant property to community groups and the promotion of various forms of temporary, often low-value commercial activity in central areas. For example, work is currently being done to develop a health hub at an old Debenhams store on Bangor high street in Wales.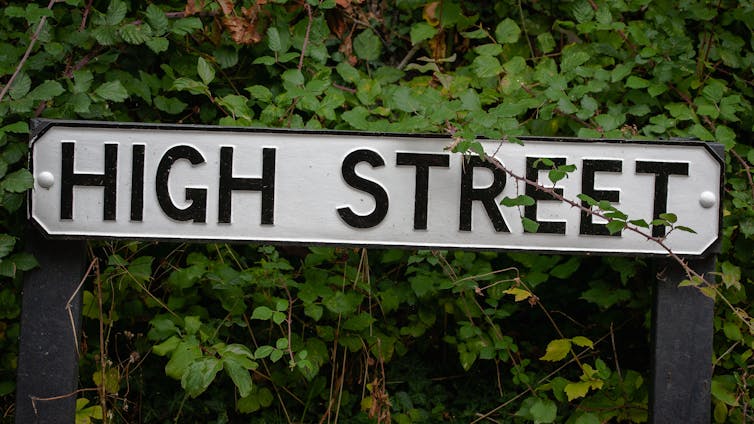 Creating authentic high streets
From a social perspective, community-led initiatives in high streets can also help to maintain, hand down and evolve the identity of towns and cities. Social identity creates a sense of belonging and promotes pride and social cohesion among citizens. Tourists and investors may also be attracted when a strong social identity makes a town or city unique and interesting for visitors.
This kind of authenticity is important, not only for the identity of the local community, but also for attracting visitors who might spend money. This shouldn't be the key focus, but of course it helps the local economy.
Community authenticity is based on culture, customs and traditions. This means ensuring products and experiences such as events, food and works of art are made by the locals, according to their customs and traditions. Of course, in an era of increasing change in our communities, as they constantly reinterpret themselves, what is considered contrived at one time could be considered authentic at another.
Safeguarding the historical essence and genuine character of urban spaces like high streets plays a pivotal role in upholding their distinct identities. On the other hand, authenticity and community identity are dynamic. Community-led initiatives can be used to create and share an evolving vision of what a high street should offer locals and visitors.
Thankfully, the decline of the high street has encouraged some appreciation of the important social functions these areas perform. High streets can – and should – encourage social interaction and civic activity, not just business activity, so they not only survive but thrive. In some ways, this vision for the high street harks back to the era before the shopping-centred model came to dominate our towns and cities.

The authors do not work for, consult, own shares in or receive funding from any company or organization that would benefit from this article, and have disclosed no relevant affiliations beyond their academic appointment.