"100 Years of Wonder" is the theme for Disney's year-long promotion of the company's centenary. From special Disney on Ice events to a retrospective at the British Film Institute and limited edition Disney100 merchandise, Disney's celebration is big business.
The wonder and magic of Disney is consistently promoted. And yet I would argue that Disney's greatest legacy is not its animated stories or characters, but the more mundane history of its mergers, acquisitions and intellectual property rights.
The business acumen of those behind the scenes at Disney have been central to the peaks and troughs of the company's enduring presence in the film industry and popular culture at large.
Early Disney
The Walt Disney Company was founded in Hollywood by brothers Walt and Roy Disney in 1923.
Before this, along with friend and animator Ub Iwerks, the brothers had founded Laugh-O-Gram Studio in Kansas City. They then moved west with their successful silent Alice Comedies series, which featured both animation and live action.
Animation is what the Disney studio became known for. First with their shorts which included Mickey Mouse's third outing in the studio's first sound film, Steamboat Willie, and the Silly Symphony series. And then in their feature length films, beginning with Snow White and the Seven Dwarfs in 1937.
The first two decades of the studio established Disney's desire for innovation and profit. This was illustrated through their early adoption of merchandising (Mickey Mouse merchandise was profitable in the mid 1930s) and various technologies, such as Technicolor and sound.
Sinking most of their profits back into their expensive animated ventures led Disney to find ways to cut costs. This included making live action nature series, television shows and opening Disneyland, their first amusement park, in Los Angeles in 1955.
While their animated products were no longer as groundbreaking as they once were, their adoption of television in the 1950s was lucrative and popular, especially The Mickey Mouse Club (1955) and Davy Crockett (1954).
Furthermore, television afforded the company the opportunity to promote their products and authenticate Disney's position at the forefront of animation. However, live action films – quicker to make and less expensive than animation – dominated their releases in the 1960s, with stars Haley Mills, Fred MacMurray and Dean Jones appearing in multiple Disney films.
In 1966, Walt died. Roy then passed in 1971 and Walt Disney World opened in Florida the same year. In many ways, the Disney Company was never the same after the loss of the founding brothers.
Disney without Walt
The template was established for how the company would function for the next 50 years. Disney animation innovated again in the late 1980s and early 1990s through computer animation. A renaissance took place with the releases of The Little Mermaid (1989), Beauty and the Beast (1991) and The Lion King (1994).
They also expanded into cable television with The Disney Channel and founded a distribution label, Touchstone Pictures, that focused on films for adults.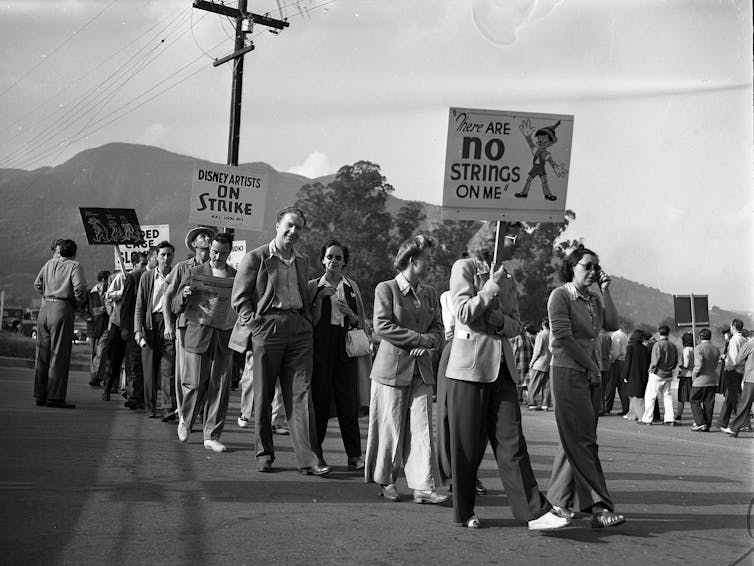 There was unhappiness among animators at the studio towards the company's bureaucracy and the perception that profits always went back into the films and not to improving working conditions or salaries (one major strike against Disney took place in 1941).
The list of former Disney animators that went on to work elsewhere or open their own animated studios is long and diverse.
Walt had learned the importance of owning rights early in his career, after he lost the intellectual property to his first successful animated character, Oswald the Lucky Rabbit. The imperative to retain proprietorship and diversify the corporation can be witnessed in many of Disney's deals and mergers.
In 1991, Disney agreed to make films with Pixar, which has gone on to be regarded as an innovative animated studio. They later acquired Pixar in 2006.
Disney Today
In 1995, Disney acquired the ABC television network, which also owned the cable sports network, ESPN. In April 2004, Disney purchased the Muppets franchise. In 2009, Marvel Entertainment was acquired and Lucasfilm was bought in 2012.
Through these purchases, Disney has become one of the most significant entertainment companies in the world and one of the few early Hollywood studios that still maintains name recognition (Disney bought out 20th Century Fox in 2019).
Whereas for earlier generations Disney stood for Mickey Mouse, animated fairy-tale features and family entertainment, for younger generations, Disney is a streaming service, amusement park brand and the creator of the Star Wars universe television programming.
Traces of Walt, Roy and the pioneering animation established in the early days of the studio can be seen in their animated releases, such as Encanto (2021), and company legacy through the "reimagining" of their animated films, such as the recently released live action The Little Mermaid.
The commercial landscape of the entertainment business is always in flux. While many companies are operating their own streaming services, the long term success of these services are questionable. This is most evident in the recent writers and actors strike in Hollywood that was mainly focused on outdated royalty models that do not account for streaming media content.
Disney's last few releases were not as successful as they had anticipated at the box office and they have lost a significant amount of Disney+ subscribers this year. However, this is a trend taking place throughout Hollywood and, while Disney is struggling, they remain a significant brand in the global media market.
And there is no question that their theme parks continue to be popular with families who want to immerse themselves in all things Disney.
The magic of Disney's animation and the memories created at their theme parks is part of their "100 years of wonder". But so is their successful business model that has continually adapted to changes in the entertainment business and its persistent cultural relevance.
---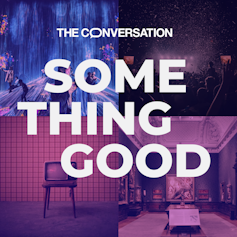 Looking for something good? Cut through the noise with a carefully curated selection of the latest releases, live events and exhibitions, straight to your inbox every fortnight, on Fridays. Sign up here.
---

Julie Lobalzo Wright does not work for, consult, own shares in or receive funding from any company or organisation that would benefit from this article, and has disclosed no relevant affiliations beyond their academic appointment.